Los miembros del cast de The Kissing Booth le desearon un feliz cumpleaños a Joey King a través de Instagram
El día de ayer, Joey King celebro su cumpleaños número 21, y como era de esperarse, sus compañeros de reparto de The Kissing Booth la consintieron con tierno y emotivos mensajes que le dedicaron a través de Instagram.
Joel Courtney – Lee Flynn
Además de ser mejores amigos en pantalla, los actores también son BFF en la vida real, por lo que Joel dedicó una linda publicación a la actriz.
"Feliz cumpleaños a este pulgar. Honestamente, demasiados recuerdos para elegir un favorito. Pero esta fue nuestra última noche en Sudáfrica y una de las noches más largas por las que estoy realmente agradecido. No quería que este día terminara. Aaaaaanyway feliz cumpleaños @joeyking. Que siempre encuentres tus peores ángulos."
Taylor Perez – Marco Peña
El actor publicó una fotografía en la que aparece con Joey en la playa, pero lo que más llamó la atención fue el tierno intercambio de palabras que tuvieron los actores de 'The Kissing Booth'
"Feliz cumpleaños @joeyking. Honestamente, podría escribir sobre esta mujer todo el día. Ella es la razón por la que me uní a la familia KB2, me recibió con los brazos abiertos y con amor, me apoyó, me empujó, me hizo reír (como orinar en mis pantalones y tuvo que revisar mi ropa interior), me inspiró a ser un actor mejor, ella compartió su familia conmigo, LA LISTA SIGUE. Agradecido por ti para siempre. #tbt"
Meganne Young – Rachel
La actriz que interpreta a la novia de Lee Flynn, también aprovechó sus redes sociales para festejar a la protagonista de The Kissing Booth.
"Feliz cumpleaños. No puedo esperar por recostarme pronto contigo en el piso de nuevo"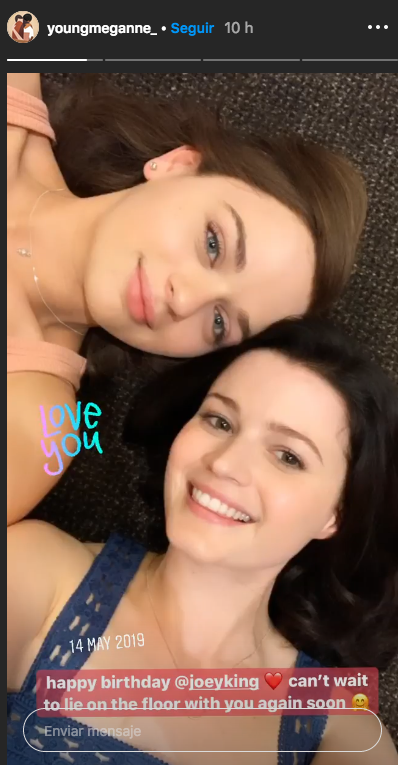 Maise Richardson Sellers – Chloe
La mejor amiga de Noah Flynn le provocó muchos disgustos a Elle durante la película, pero en la vida real son muy buenas amigas.
"UMM … CUMPLES 21 HOY !!! Eres una estrella fugaz, vuela alto, resplandece, crece, ilumina sin parar el mundo que te rodea. Brindo por todo tu esplendor, mi hermosa niña."
Carson White – Brad
El pequeño actor le da vida al hermano menor de Elle Evans, y en la vida real también se lleva increíble con Joey.
"Ella es DIVERTIDA  y tonta y chistosa y amable y dulce e inteligente y talentosa y fuerte y trabajadora y generosa y leal y humilde y LA AMO MUCHO ❤ ¡Feliz cumpleaños JoJo! Come mucho pastel"
Joshua Daniel Eady – Tuppen
"Feliz cumpleaños especial @joeyking – por aprender de ti, reír contigo y trabajar junto a ti, muchas gracias. Te amo toneladas hermana"
Bianca Bosch – Olivia
La integrante de las OMG de The Kissing Booth también publicó una especial dedicatoria a Joey King:
¡De regreso a 2017 para tu cumpleaños @joeyking en el set de TKB1 donde te conocí! Feliz cumpleaños a una chica hermosa, genuina, divertida y talentosa"

Evan Hengst – Miles
"Para la idiota más valiente que conozco, feliz cumpleaños"

El único miembro del cast que no felicitó a Joey King por medio de las redes sociales fue Jacob Elordi. ¿Creen que el actor la haya felicitado en privado?
Síguenos en Instagram: @revistatumexico