El spin-off 'Pretty Little Liars: The Perfectionists', anunció que Ezra y Aria tuvieron un hijo.
Una de las parejas más queridas en Pretty Little Liars era la de Aria Montgomery y Ezra Fitz, pues a pesar de que él era su maestro y le llevaba varios años de edad, su química siempre fue evidente.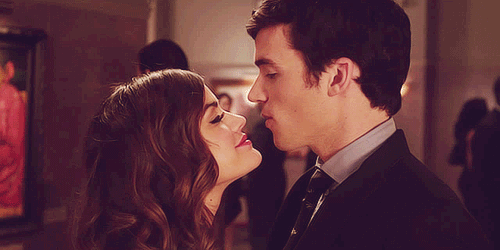 Ahora que el spin-off 'PLL: The Perfectionists' acaba de estrenarse, los fans están encantados porque a pesar de que no regresaron todos los personajes originales, la trama de la serie tiene algunas referencias sobre ellos. De hecho, el último episodio reveló lo que pasó con algunos de los protagonistas de la serie, tales como Aria y Ezra, quienes se casaron en el último capítulo de Pretty Little Liars. Pero, ¿qué fue lo que pasó con ellos?
Resulta que ahora la pareja tiene un bebé con un nombre sumamente significativo, pues la cuenta oficial de Twitter de PLL filtró una conversación entre Alison y Aria en la que se revela que el nombre de su hijo es Katherine Ella. ¿Te suena familiar? Ella es el nombre de la mamá de Aria. 
Ezria fans, where you at? Leaked text messages from Alison's phone. #PLLThePerfectionists pic.twitter.com/KUFkgsO6df

— Pretty Little Liars (@PLLTVSeries) March 28, 2019
Después de todos los altibajos que tuvieron en su relación, ¡Aria y Ezra tuvieron un final feliz!
Síguenos en Instagram: @revistatumexico